August 10 Guild Meeting
Natalie Barnes
"beyond the reef"

Natalie is the owner/designer for beyond the reef, a pattern-design company that she started one rainy north shore morning on a lanai in Hanalei, Kauai, while drinking coffee with author Jill Marie Landis. As a little girl, Natalie learned to sew, knit, and crochet from her grandmother. After a successful career in the demanding commercial/corporate interior design field in Los Angeles, Natalie decided it was time to live a new dream, and put her talents to work in another area. She has never looked back. Having always lived on the beach, she draws her inspiration for color and design from
the sea, the sky, and the land.
August 11 - String Piecing Boot Camp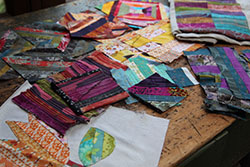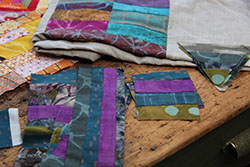 This is a concept class, or a theory class. The focus in this class will be on string piecing. We'll work with free form and foundation piecing. Then we'll take a look at what can be done with these string piecing elements. How about some appliqué? Triangles? Block arrangements? Half square triangle strips. Last but not least, we'll be talking about color and contrast and the use of both of these while working with string piecing.